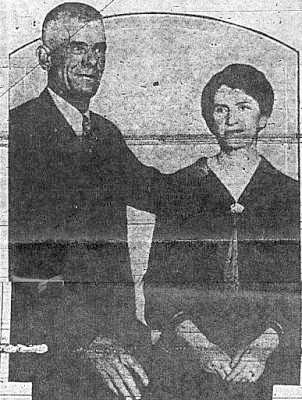 Edward and Ethel Bean were second-class passengers. Edward had lived in New York for a time. After waiting several years for his return from America, Ethel finally married Edward when he returned to England. The newlyweds chose Titanic to carry them to their new life together. When the ship starting sinking Edward helped Ethel into Lifeboat 13.
Here is their story from an article "Women Work Hard for Rescued Folk" in the New York Times, Sunday April 21, 1912:
Beane is a bricklayer, and Ethel, his wife, was maid in a Norwich household. Between them they had stored away $500, and sixty-five wedding presents were lost with the money. Beane stood back at the cry of, "No, only women!" when his bride was placed in one of the lifeboats. But as he stood back manfully he saw that boat pull off and it was only half filled. And he jumped into the sea and swam for that boat, and Ethel Beane's arms pulled him in.
Mr. Bean was one of the few people who survived after being in the water. It's amazing that the woman he loved pulled him from the freezing waters!